Paper cups are divided into single-sided PE coated paper cups and double-sided PE coated paper cups.
Single-sided PE coated paper cups: The paper cups made with single-sided PE coated paper are called single PE paper cups (common domestic market paper cups, most of the advertising paper cups are single-sided PE coated paper cups), and its manifestation is: paper cup filled with water The side has a smooth PE coating.
Double-sided PE coated paper cups: Paper cups made from double-sided PE coated paper are called double-sided PE paper cups, and the expression form is: there are PE coated films on the inside and outside of the paper cup.
Paper cup size: We use ounces (OZ) as the unit to measure the size of paper cups. For example: 9 ounces, 6.5 ounces, 7 ounces of paper cups that are common on the market.
Oz (OZ): An ounce is a unit of weight, which represents here: 1 ounce of weight is equivalent to the weight of 28.34 milliliters of water, which can be expressed as follows: 1 ounce (OZ) = 28.34 milliliters (ml) = 28.34 grams (g) .
Paper cups: In China, we call cups with a size of 3--18 ounces (OZ) as paper cups. Conventional paper cups can be produced on our paper cup forming machine.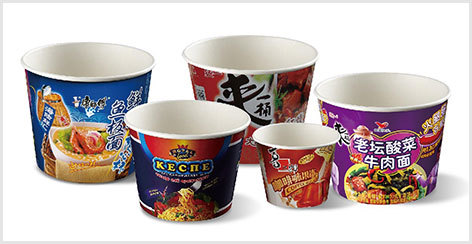 Features
1. This machine adopts multi-station operation.
2. Automatic paper feeding, sealing, oil filling and bottom flushing.
3. Automatic constant temperature heating, knurling, curling, convex rolling, unloading, etc.
How to distinguish the quality of paper cup machine
Paper cup machine and paper bowl from raw materials (paper) to commodities (formed paper cups, paper bowls) need to go through three processes: printing, die cutting, forming, and only two processes from paper lunch box: die cutting, forming.
The automatic paper cup machine milk is fresh, elegant, hygienic, convenient and fashionable, giving people a refreshing feeling. It is used to pack liquid milk or fermented milk abroad, especially in Japan and Southeast Asian countries. It is a new form of packaging in China.
At present, except for large-scale manufacturers who complete all the processes independently, most investors initially entrust printing and die-cutting with two processes. One can reduce investment; second, the printing process is highly professional.
In some paper cup machines, due to the poor pulp quality, in order to make the cup look whiter, some paper cup machine manufacturers add a lot of fluorescent whitening agents. This fluorescent substance can mutate the cells and become a potential carcinogen once it enters the human body. factor. According to national regulations, the use of phosphors in food paper is not allowed. Therefore, the paper cup is not as white as possible.
Since paper cup machines are different from roof packs, glass bottled milk and bagged milk, they meet the needs of consumers who like the old and the new, realize differentiated sales, increase the price difference, and bring additional profits.
Zhejiang New Debao Machinery Co., Ltd. was founded in 2001.It is a professional intelligent equipment manufacturing company integrating software development, mechanical research and development, manufacturing and marketing. New Debao people pursue the concept of high quality and technology leading, strive to create higher value for customers. By changing the working mode with high speed intelligent paper cup machine to make the operation more and more simple.
Our processing equipments are equipped with world-class CNC multi-axis Turning-Milling compound, such as DMG MORI, Hardinge, Doosan, TSUGAMI, Mazak and so on. The laboratory is equipped with Zeiss three coordinates, Mitutoyo roughness measuring instrument, profilometer and other inspection equipment, to achieve the accuracy of inspection for machine parts, to ensure the overall reliability of the cup machines, to truly ensure the high quality, to achieve world-class product standards.
We focus on the field of best paper cup machine for 20 years, concentrate to team building and personnel training system, create a R&D team of hard-working; with self-transcendence, hard-working attitude, relying on the spirit of diligent and dedicated craftsmen, to achieve the New Debao people have concept of technology leading and quality first. Based on this, we provide customers with five years of quality guarantee. Now we have successfully developed an intelligent high speed paper cup forming machine + visual inspection + sleeve insert + automatic packaging intelligent production system, which is the first in the world.