Mechanical Charactor
DEBAO-118DT intelligent paper cup sleeve machine is using tabletop layout, which isolates the transmission parts and the forming molds. This layout is convenient for cleaning and for maintenance. The machine use longitudinal shaft transmission structure, barrel indexing cam and gear drive, ensuring stability and accuracy. All transmission and driving parts are running in oil bath. The production speed is up to 118/min. depends on size and material. it is an idel machine to produce 8-44oz sleeved cups which is widely used in milk-tea cups, coffee cups, ripple cups, noodle bowls and so on for heat resistant purposes.
Paper Cup Sleeve Mechanical Quality Guarantee
1. Mechenical parts are guaranteed for 5 years or production reaches 200million cups, electrical parts are guaranteed for 1 year.
2. All parts on forming table are easy to access for maintenance.
3. All parts under forming table are lubricated by oil bath. Oil should be changed every 4-6 months specified oil.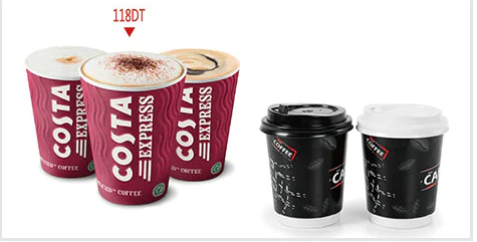 Capacity Warranty
1. Production output up to 53,000 cups per shift (8 hours), up to 4 million cups per month (3 shifts);
2. Percentage of pass is higher than 99% under normal production;
3. One operator can handle several double wall paper cup machine at the same time.
Zhejiang New Debao Machinery Co., Ltd. was founded in 2001. It is a professional intelligent equipment manufacturing company integrating software development, mechanical research and development, manufacturing and marketing.
We focus on the field of paper cup machine for 20 years, concentrate to team building and personnel training system, create a R&D team of hard-working; with self-transcendence, hard-working attitude, relying on the spirit of diligent and dedicated craftsmen, to achieve the New Debao people have concept of technology leading and quality first. Based on this, we provide customers with five years of quality guarantee. Now we have successfully developed an intelligent high speed paper cup forming machine + visual inspection + sleeve insert + automatic packaging intelligent production system, which is the first in the world.
We are committed to the research and development of paper cup making industry 4.0, providing customers with a comprehensive system of the best combination of the overall solution; building intelligent unmanned workshop, information Internet of Things+, digital management system.
Our customers are all over the world, they are in North America, Europe, Middle East and Asia. They are making paper cups with the machines of New Debao, supply to Starbucks, Coca Cola, KFC, Master Kang, Luckin coffee, Xiang Piao Piao and other famous enterprises.